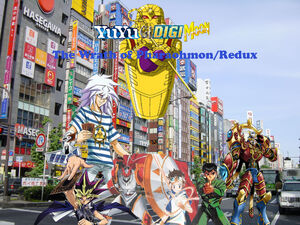 Season 1 and where the franchise started it all (the original version was released in 2003). This is a revised story. 
The refreshed version of YuYuGiDigiMoon's first season. Five groups of heroes unite to fight a common enemy: the evil Pharaohmon. It all begins again with new exclusive material!
Characters
Edit
Battles Featured
Edit
Chapter 1: A New Enemy, Pharaohmon! Arise Heroes!
Chapter 3: Brothers of Light and Darkness, Wolfmon and Loweemon Revived! Gallantmon's Fall, Takato's Despair!
Chapter 7: A Revived Evil! Megidramon of the Hazard!
Chapter 13: Pharaohmon's Insidious Plot Unfolds! Duel, Yugi vs Felinismon!
Chapter 14: Yoko Kurama Takes Stage! Pharaohmon's Imminent Revival!
Chapter 15: Demonic Pharaohmon Rises! A Challenge Issued!
Chapter 16: The Birth of Nemesis, Mistress of Darkness! Pharaohmon's Global Announcement!
Chapter 17: Eight Days Come and Go! The Shadow Tournament Arrives!
Chapter 18: Duel of the Yamis, Yugi vs. Bakura! Renamon and Blitzmon vs. the Devimon Duo! 
Chapter 19: Inumon and Basiliskmon's Renewed Grudge! Takato Takes Center Stage! 
Chapter 20: Henry and Jaarin, the Wongs Step Up! Brimstone's Stirring Flames!
Chapter 21: A Return from the Darkness, Duskmon Returns! The Ambitious Duelists, Jeri vs. Kaiba! 
Chapter 22: Joey and Kazu, the Brash Duelists! Gallantmon and Yusuke's Team-Up!
Chapter 23: I'll Save Yui! Himura's Declaration and the Miraculous Guardian!
Chapter 24: Rika vs. Ryo, Digimon Queen vs. Digimon King! Sailor Ninja Formation!
Chapter 25: A Fated Showdown: Pharaohmon and Anubismon! Revelations of a Dark Past!
Chapter 26: Spectacular Exhibition Fights! Day One Concludes! 
Chapter 27: Insane Fun at the Sphinxmon Hotel!
Chapter 28: Shadow Tournament, Day Two! Arrival at the Sovereign Temple!
Chapter 29: Duelist Kingdom Rematch, Joey vs Mai! Entering the Sovereign Temple!
Chapter 30: Revival of Sailor Power! Hellhound vs. Serpent, Inumon and Basiliskmon's Clash!
Chapter 31: Connected Minds, Pharaohmon and Lance! Sailor Senshi Rebound!
Chapter 32: Unified Spirit Evolution! The Sailor Senshi vs. BelialMyotismon! 
Chapter 33: Inumon Confronts Pharaohmon! The Departure from the Sovereign Temple!
Chapter 34: 100 Percent Power! Duel Finals, Yugi vs Lance!
Chapter 35: Arise, Shining Mode! The Shadow Tournament Concludes!
Chapter 36 (Final Chapter): Fall-Out From the Shadow Tournament! The Impending New Era Approaches!